It is so cold in Greece the last couple of weeks, that I am sure that even those who did not like soups at all, have begun to revise. Personally I love soups and I think a tasty and well-cooked soup can easily stand as a main dish in everyday's table. Today's recipe, a carrot soup with turmeric and ginger, beyond an eye catcher for us who like colorful food :), is very nutritious. The ultimate comfort food!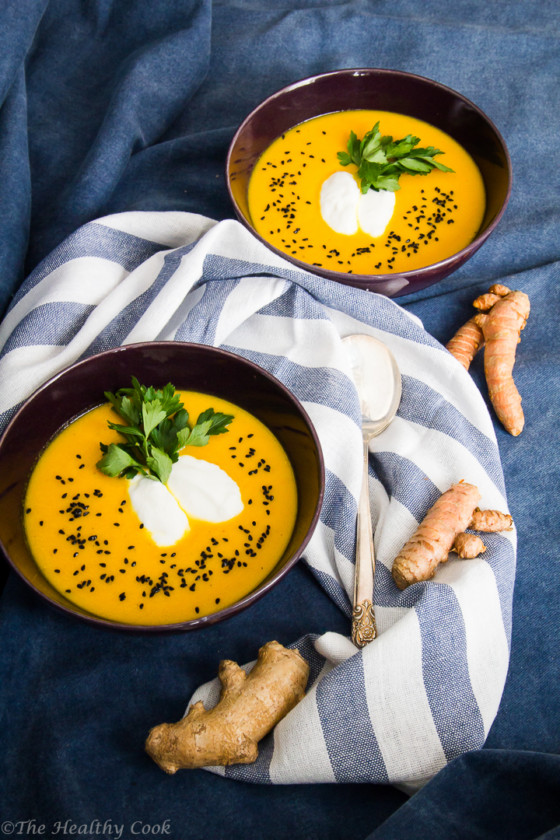 Turmeric and ginger provide countless benefits to our body. Turmeric is a great recognized anti-inflammatory and antioxidant and contains manganese, iron, potassium, fiber and vitamin B6. Ginger, on the other hand, has antibacterial and anti-inflammatory action, while it is excellent for the relief of unpleasant gastrointestinal symptoms. Both help to reduce "bad" cholesterol. Turmeric can more easily be absorbed by the body, when combined with oil or other substances, such as black pepper and ginger. The combination of ingredients on this carrot soup recipe is not accidental.
Recently I was delighted (it's the perversion of a foodie ….) because I found fresh turmeric root in a store with organic products. Initially I used some to make the natural remedy Golden Milk and then I made this carrot soup. On the ingredient list I also give you the proportions to use turmeric powder instead.
As for carrot, it is an antioxidant, and among other benefits, it strengthens the immune system, prevents and treats respiratory tract infections and detoxifies the liver. I would recommend you to use organic carrots in this soup, to get the full benefits of its ingredients.
I think this recipe is the best I can suggest you for this time of year. I found it some time ago in the very interesting Hello Glow and I definitely wanted to show it to you. Besides the wonderful combination of ingredients, I like that the vegetables are not boiled, but roasted and the soup is ready in no time. I adapted it a little closer to greek tastes. Let's see it:
Carrot Soup with Turmeric & Ginger
2017-01-02 22:29:31
Serves 4
A healing and comforting soup gor cold winter days
Nutrition Facts
Amount Per Serving
* Percent Daily Values are based on a 2,000 calorie diet. Your Daily Values may be higher or lower depending on your calorie needs.
Ingredients
• 8 (600 gr approx.) carrots, peeled and cut into medium-sized pieces
• 200 g. turnip, peeled and cut into medium-sized pieces (the one that looks like a large white carrot)
• 2 small onions, peeled and chopped
• 4 cloves garlic, crushed
• 4 tablespoons olive oil
• 4 cups hot vegetable broth (preferably homemade)
• 2 tsp turmeric powder (or 2 tablespoons or fresh turmeric root, peeled and grated) *
• 5 cm fresh ginger root, peeled and grated
• 2 pinches of cayenne pepper
• the juice of ½ lemon
• salt, freshly ground black pepper
• fresh parsley, Greek strained yoghurt and black sesame, to garnish
Instructions
Preheat oven to 180 ° C. Line a baking tray with greaseproof paper.
In a large bowl mix chopped carrots, turnip, onions and garlic. Sprinkle with turmeric powder and cayenne pepper and add the olive oil. Mix well so all vegetables are well coated.
Transfer the vegetables into the pan and bake for about 15 minutes.
Transfer the roasted vegetables in a food processor, add the vegetable broth, lemon juice and ginger and blend until smooth and creamy.
Relish with salt and freshly ground black pepper.
Serve the carrot soup with turmeric and ginger warm and garnish with fresh parsley, Greek strained yoghurt and black sesame.
Notes
* If you use turmeric powder follow the recipe as is. But if you use fresh turmeric, you can add it to the food processor along with ginger.
Adapted from Hellow Glow
The Healthy Cook https://thehealthycook.gr/