Today we follow a different path. Today we forget healthy recipes and low calories. Since I have my birthday today, I thought I 'd offer you a delicious dessert!! Chocolate crisp meringue with chestnut cream and chocolate. A recipe that I had in mind for a long time and finally it's time to make it!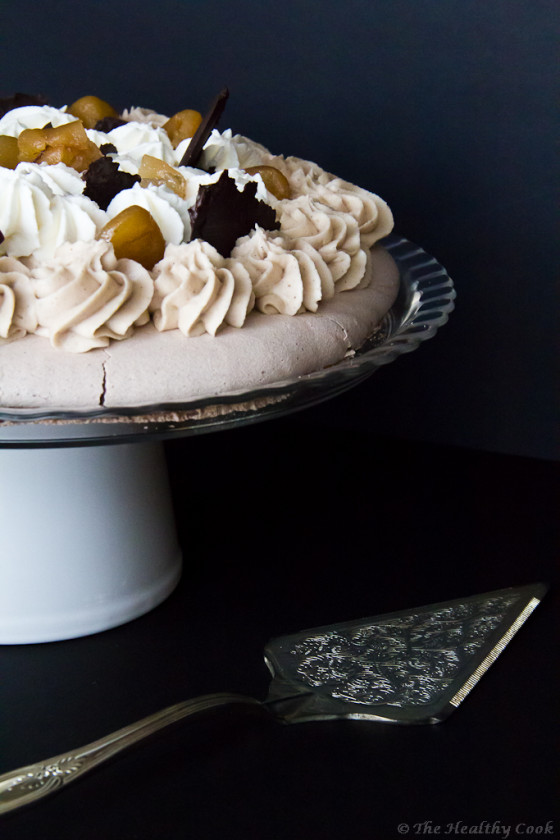 Pavlova is generally a dessert I really like and we make it at home often. Usually we garnish it with whipped cream and fresh seasonal fruits (my favorites are blueberries, blackberries, etc.) and a fruit sauce. This time I decided to try adding chocolate to the meringue and then embellish it with a cream made of whipped cream, chestnut puree and vanilla, some whipped cream, chocolate and some marrons glacés. The result is excellent!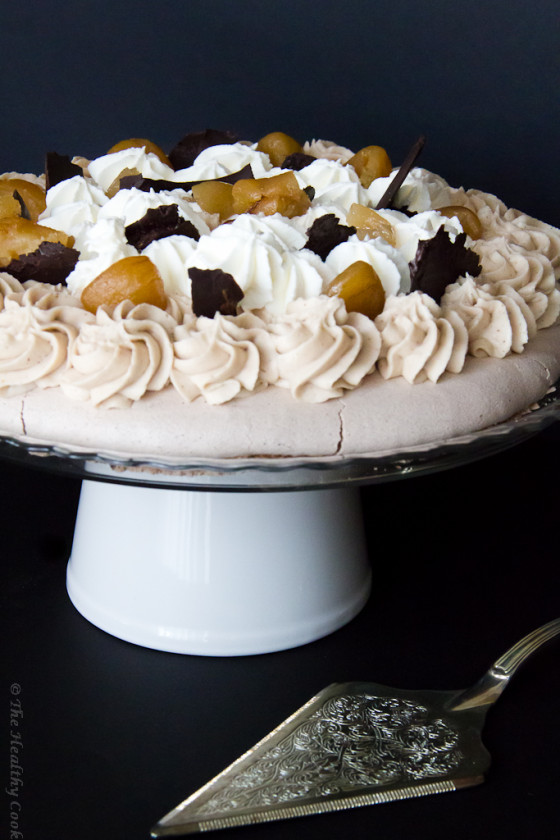 Chestnut puree you can make yourself. I unfortunately did not have the time and I used ready-made (I warned you, no healthy recipe today!). I should give you some information about the nutritional value of chestnuts. We will use them a lot, in other recipes amid the winter. Chestnuts are a good source of essential amino acids, carbohydrates, vitamins C, B1kai B2, folic acid and calcium, magnesium, phosphorus, iron, sodium and potassium. Is a complete food, ideal for growing children, for those recovering from various diseases, such as diarrhea and intense athletes. Also, like all nuts, chestnuts help fight stress and fatigue and lower the bad cholesterol-LDL.
As for the cream, I write that we need 600g. whipped cream, because I use vegetal cream that I find in large supermarkets. It has less fat and is a bit sweeter so I do not add any sugar. You make the whipped cream as you want, or buy some from a pastry shop. Let us now look at the recipe:
Preparation time: 2 hours
Servings: 6-8
Ingredients:
For the meringue
4 egg whites from large eggs
icing sugar, sifted
150 g. white sugar
3 tablespoons cocoa powder, sifted
1 ½ tablespoon chopped dark chocolate 55%
For the chestnut cream
1 ¼ cups chestnut puree
whipped cream
seeds from 1 vanilla pod
For the decoration
300g cream
55% dark chocolate, pieces
4 marrons glacés
Instructions:
Preheat oven to 100°C /212o Lay a baking tray with parchment paper, in which you draw with a pencil, a circle of diameter 26cm/10in.
Prepare the meringue. Beat the egg whites in a mixer in high speed, pouring slowly, as snow, the icing sugar. The meringue is ready when it looks like silk and when tight tops formed. Turn the mixer off, pour a little bit of white sugar at a time and using a spatula to incorporate, gently. In the same way, add the cocoa and chocolate pieces.
With a spoon, we set up the meringue into the pan, in the cycle we have designed. We make a slight puddle in the middle, so the cream can sit.
Bake on middle rack for about 1 hour and 30 min up until the meringue has dried. When it comes off the parchment paper and the outside is crispy, then it is ready. We leave on a rack to cool completely.
Prepare the chestnut cream. Mix the chestnut puree, 300g whipped cream and vanilla until homogenized.
Meanwhile, in bowl over saucepan of hot (not boiling) water, melt chocolate, stirring occasionally. Then pour it on a surface covered with parchment paper. Lay the chocolate with a spatula to a thickness of about 3mm or 1/8 -inch. Let cool and cut into irregular pieces.
When the meringue is completely cool you can decorate it. Transfer chestnut purée into a pastry bag, where you have already applied a pastry nozzle and make rosettes across the surface of the meringue.
Then, pour into a pastry bag the rest of whipped cream (300g) and make rosettes in the center of the circle.
Finally, garnish with the chopped chocolate and marrons glacés.
I will not give you the nutritional value this time. It's a happy day today and you have to enjoy your dessert without many regrets!!!! 🙂
In the next post I will tell you all about the recent food4good event.
Source:
http://www.mednutrition.gr/ehoyn-ta-kastana-eyergetikes-idiotites-oste-na-entahthoyn-sti-diatrofi-mas