Fruity and very refreshing is this tart with coconut, mango and pineapple full of summer colors and scents. Lightweight, with a, not so ordinary dough for tart, and a cream with Greek yoghurt, it will sweeten your summer afternoons without remorse.
When I tasted the oatmeal date bars I thought I should try this dough into a tart. And so I made a few small changes and I tried it. It is dense and tasteful. The cream is made in the conventional way, with milk, coconut cream and eggs. Instead of sugar I used stevia and honey. Once the cream has cooled, it is mixed with grated coconut and candied pineapple. The original recipe (from the book "Pies" by Louise Gardener, Parragon Publishing) said that first you spread out the cream on the dough and then you cover it with the whipped cream. I instead used Greek yoghurt, which you stir in the cream. The result was a very light cream, refreshing that fits perfectly with fresh fruits. Regarding the decoration, can you think anything better than fresh mango cubes and roasted coconut?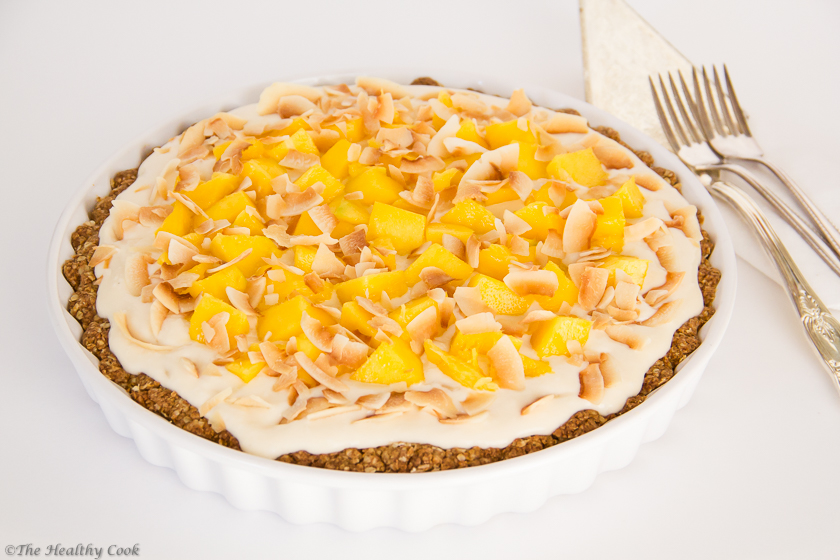 Mango, this delicious exotic fruit with sweet and sour taste, is a rich source of vitamin A and beta carotene, an antioxidant that acts as a shield in many types of cancers. It is also rich in lycopene, which is also a powerful antioxidant, essential for protecting cells and suppressing tumor growth. A single mango covers the daily requirement of vitamin C; it is also rich in several B vitamins, calcium, magnesium and fiber. Complex carbohydrates such as mango, helps to boost metabolism so your body burns more calories.
Coconut, as we have said on other posts, is an important source of antioxidants, high in vitamin E (strengthens the health and shine of hair and skin) and natural carotenoids and has significant anti-aging effects. It contains vitamin C and copper (holding the elasticity of the skin), phosphorus and calcium (osteoporosis), iron (reduces risk of anemia), magnesium (relaxes muscles and nerves), selenium (good antioxidant and anti-arthritic), potassium (lowers blood pressure) and manganese (maintains healthy blood sugar levels).
Preparation time: 2 hours
Servings: 8
Ingredients:
dough:
1 cup (4 oz.) whole wheat flour
1 ½ cup (4.7 oz.) rolled oats
1 teaspoon baking powder
1 teaspoon baking soda
½ teaspoon salt
½ cup (3.8 oz.) brown sugar
½ cup (3.5.) stevia (in proportion with sugar 1: 1)
2 oz. butter, melted
3.5 oz. Greek yoghurt, 2% fat
cream:
1 ¾ cups milk, 2% fat
4.4 oz. coconut cream
3 egg yolks
¼ cup (1.7 oz.) stevia (in proportion with sugar 1: 1)
¼ cup (3.3 oz.) honey
2 tablespoons cornstarch
2 tablespoons pineapple juice
¼ cup (0.9 oz.) grated coconut
¼ cup (1.7 oz.) candied pineapple, finely chopped
1 ¼ cups (10 oz.) Greek yoghurt 2% fat
decoration:
1 ripe but still firm mango, cut into cubes
1.6 oz. coconut flakes, toasted
Instructions:
Prepare the dough by mixing in a bowl the flour, oats, baking powder, baking soda, and salt.
In mixer bowl beat sugar, stevia, butter and yogurt, on high speed for about 1 minute.
Add the mixture to the dry ingredients and mix. You should have a crumbly dough. Spread the dough evenly in a greased or oiled tart pan, prick the surface with a fork and bake at 180 ° C/ 350o F for 20 minutes. Allow the dough to cool.
Meanwhile prepare the cream. In a saucepan, over medium-low heat, heat milk and coconut cream below boiling point.
In another bowl, beat the egg yolks with sugar and stevia until pale and fluffy.
In a glass, mix the cornstarch with the pineapple juice.
Add the hot milk into the yolk mixture and mix well. Keep stirring while pourring the juice with corn flour.
Pour the mixture back into the saucepan and put it back on medium heat stirring constantly for about 10 minutes, until thickened. Leave to cool, cover the surface with a plastic film and refrigerate for about an hour.
Remove the cream from the refrigerator and add the grated coconut and chopped pineapple and mix. Finally, add the yogurt and mix well. Put the cream back in the fridge until it's time to setup the tart. (You can have it done one day ahead).
Spread the cream evenly over the dough and decorate the tart with mango and roasted coconut.
The coconut and mango tart is even better the next day.