Perfect timing to give you a recipe for creamy chicken soup, right… ?! 😀 It's been a while since I wanted to post this recipe, but I hadn't gotten around to it. So the time has come, albeit belatedly. Along with the recipe you will also find a tip to make the boiled chicken you use for the soup, very tempting!
The truth is that we eat soups all year round. Of course, in the very hot summer months, we make them cold, but in general we love them a lot.
Chicken soup nutritional value
And what can one say about how energizing and nutritious this soup is! It improves the symptoms of respiratory problems in respiratory infections and colds. Moreover, contributes to liquefying mucus and decongesting the respiratory system. Its ingredients makes it is a nutrient bomb.
In addition, it hydrates the body, contributes to better bowel function, due to the fibers it contains, and is a way to get all the nutritious vegetables your body needs.
And if you're one of those people who think they don't feel full with a plate of soup, you're wrong. The more vegetables you add to your soup, the higher its fiber content. These, in turn, are known to increase the feeling of fullness, so you get full faster and this feeling lasts longer. At the same time, the lean protein of the chicken also enhances this feeling of satiety, so you don't feel hungry for a longer period of time.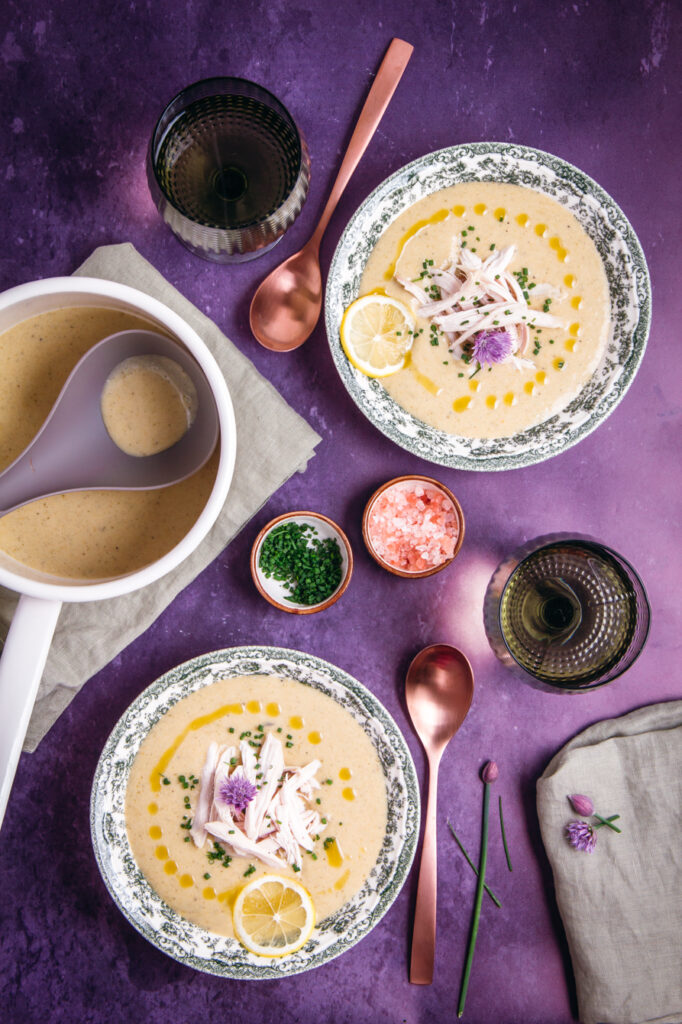 A few words about the recipe
This particular recipe contains only chicken, vegetables and potatoes, which after boiling I mash them and this soup comes out with a wonderful, velvety texture.
I tend to make chicken soup with the whole chicken, not just the carcass. So today I'm going to give you a trick to use it after it's boiled, and make it super tasty and tempting.
You will make a mixture with olive oil, lemon, honey, various spices and herbs, then coat the chicken after cutting it. Finally, cook it for 15 minutes in the air fryer, or a little longer in the oven air-mode. No more boring, boiled chicken!
Do you want more soup recipes? Click here.
Print Recipe
Creamy Chicken Soup
Healthy, filling and nutritious creamy chicken soup with veggies. Plus, a tip to turn boring boiled chicken into a very tempting treat!
Ingredients
Soup:

1 whole chicken

3 carrots, peeled and cut into pieces

1 large onion, peeled and cut into pieces

½ cup coarsely chopped parsley

2 large potatoes, peeled and cut into pieces

3-4 stalks of celery, chopped

3 teaspoons of dry leek (you can also add fresh)

2 ½ teaspoons dry celery root (you can also add fresh)

125ml olive oil

salt, pepper

Air fryer chicken:

the chicken we boiled for the soup, cut into servings

3 tbsp olive oil

the juice of 1 lemon

1 tbsp honey

1 tsp mustard powder

1 tsp paprika

1 tsp onion powder

½ tsp garlic powder

salt, pepper

some dried oregano, for sprinkling

some dry rosemary, for sprinkling
Instructions
1
Boil the chicken in plenty of water, in a large pot, until the meat starts to fall apart. Remove it with two slotted spoons and set aside. Pass the broth through a fine sieve and put it back in the pot.
2
Add the potatoes and all the vegetables and simmer until soft. Then, season with salt and pepper, add olive oil, let them simmer for 5-10 minutes and turn off the heat. If necessary, during boiling, add a little hot water.
3
Puree the soup with a blender. Serve it with shredded chicken, or with chicken in the air fryer. I garnished mine with olive oil, chopped chives and their blossoms.
4
Mix all the ingredients for the marinade in a bowl and coat the chopped, already boiled, chicken. Sprinkle it with some dry oregano and rosemary and bake it in the air fryer at 175°C for 12-15 minutes. If you don't have an air fryer, use the oven in air mode, but the cooking time will differ.
♥ If you enjoyed this recipe and want to see more, follow The Healthy Cook by email and every new recipe will come directly to your inbox!