For these autumn, rainy Sundays, (which I will miss this year, since there will be no time for me to cocooning..) is this cake for. Or, for those afternoons you come back home and you need a hot drink to stimulate you so you'll keep up with your obligations. Whatever it is, this date and walnut cake matches perfectly and might become your favorite. Vegetarian, healthy and sugar-free … you have no reason not to try it. 😉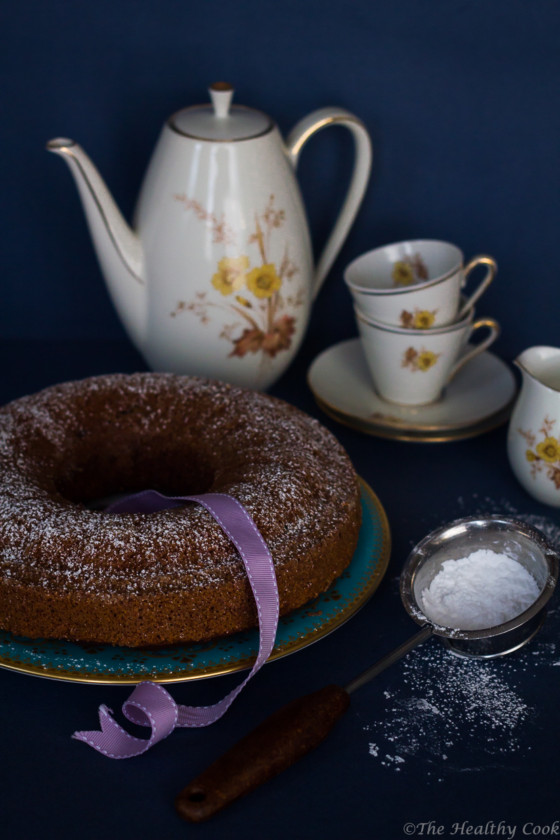 Dates fit very well with walnuts, since they both have earthy flavors. The end result is a very delicious, fluffy and moist cake.
With this recipe I managed to solve the puzzle with which many of you might have been confronted. How do I replace sugar with honey on a cake? It's not as simple as putting the same amount of honey and that's it. There are some other things that you have to be careful with to have a success in your experiment. I did research and tests and I have prepared an article with tips that will help you in any such attempt. Let's see the date and walnut cake:
Date & Walnut Cake
2017-10-03 22:34:31
Serves 24
A sugarless, healthy and moist date & walnut cake for your afternoon tea
Nutrition Facts
Amount Per Serving
* Percent Daily Values are based on a 2,000 calorie diet. Your Daily Values may be higher or lower depending on your calorie needs.
Ingredients
• 240 g whole wheat emmer flour
• ½ cup of coconut oil
• ½ cup of honey
• 1 ¼ cup of almond milk
• ¼ cup of water
• 1 cup of pitted dates, finely chopped
• ½ cup walnuts, coarsely chopped
• 1 teaspoon instant coffee or espresso coffee
• 2 tablespoons of cocoa powder
• 1 teaspoon baking powder
• ½ teaspoon of baking soda
• 1 pinch of salt
Instructions
Grease a cake pan, approximately 23 cm in diameter.
In a saucepan, heat the milk and bring to boiling point. Remove from heat and add honey, coffee and cocoa. Stir to dissolve and finally add the dates. Allow to stand for about 20 minutes.
In a bowl, mix the flour, baking powder, baking soda and salt. Add the milk mixture, coconut oil and water. Stir well and finally add the walnuts.
Pour the mixture into the prepared pan and bake in a preheated oven at 170 ° C for about 50 minutes.
Notes
Substitute maple syrup for honey and you'll have the vegan version of this date & walnut cake.
Adapted from the book "101 Healthy Vegan Desserts", by Daniel Nadav
Adapted from the book "101 Healthy Vegan Desserts", by Daniel Nadav
The Healthy Cook https://thehealthycook.gr/