The exotic date is a fruit that has always enchanted me. It conjures distant, exotic lands, full of Oriental aromas and flavors. Dates are one of the most important food for the people of Asia and northern Africa it is cultivated systematically, since 6000b.C. approximately, in twelve species and hundreds of varieties. Although the dates are eaten fresh, usually you meet them either dried or partially dried and then partially rehydrated.
It is the fruit of the palm tree; it is delicious and nutritious, as it contains up to 70% sugar. It is one of the sweetest fruit available, so it replenishes lost energy, revitalizes the body instantly and satisfies hunger. After all, they are the staple food of the Bedouins who travel for days in the desert and need food with high energy content. This also is a reason why date is the first food taken by the Muslims immediately after the fasting of Ramadan.
Rich in fiber, dates inhibit the absorption of LDL cholesterol from the intestine. Insoluble and soluble fiber contained in dates, help in cleansing the gastrointestinal system, helping the bowel to work more efficiently.
The significant amount of magnesium contained in dates makes them valuable for the prevention of cardiovascular disease, arthritis, Alzheimer's disease and other diseases associated with inflammation. Magnesium helps lower blood pressure, as well as potassium, which also contained in dates. Both of them offer protection against stroke and coronary heart disease.
The dates are also rich in calcium, manganese, iron and copper, contain adequate amounts of B vitamins, vitamin A and vitamin K. In addition, the tannins contained in them have anti-infective, anti-inflammatory and anti-hemorrhagic properties.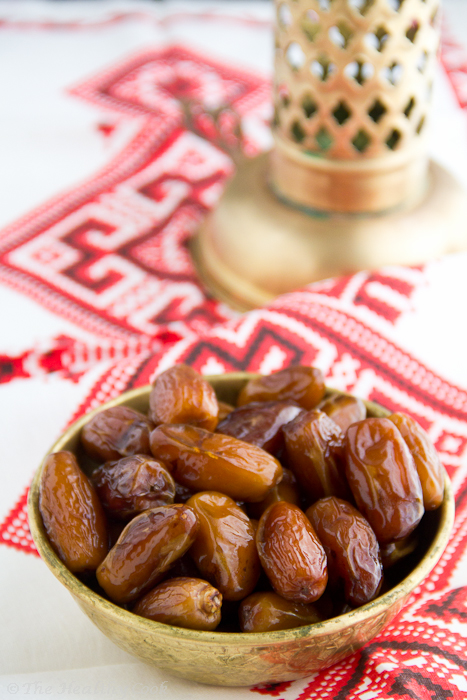 Their readily usable energy in large quantities, can evolve into an advantage or disadvantage, depending on the frequency and quantity consumed. The 100 g. give 274 calories derived primarily from carbohydrates (60 g) and that is why they should be consumed in moderation.
Dates are usually eaten plain as they are extremely delicious, but can be eaten as a snack with yogurt, cereals and nuts. Use them to enhance the flavor of your food, or be creative making delicious desserts with them.
Sources:
http://naturalsociety.com/health-benefits-of-dates-7-reasons-eat-date-fruit/
http://healthyeating.sfgate.com/calories-benefits-dates-4120.html
http://www.nutrition-and-you.com/dates.html
http://www.iatronet.gr/diatrofi/trofima-rofimata/article/7124/damaskina-syka-kai-xoyrmades-gia-amesi-energeia.html