I have a very, very loving recipe for you today. I'm cooking it for years, long before I start blogging. Chicken with creamy Dijon mustard and white wine sauce, mushrooms and tarragon, a wonderful dish for any occasion. This time the dish was served with basmati rice, but it fits wonderfully with mashed potatoes and boiled green vegetables.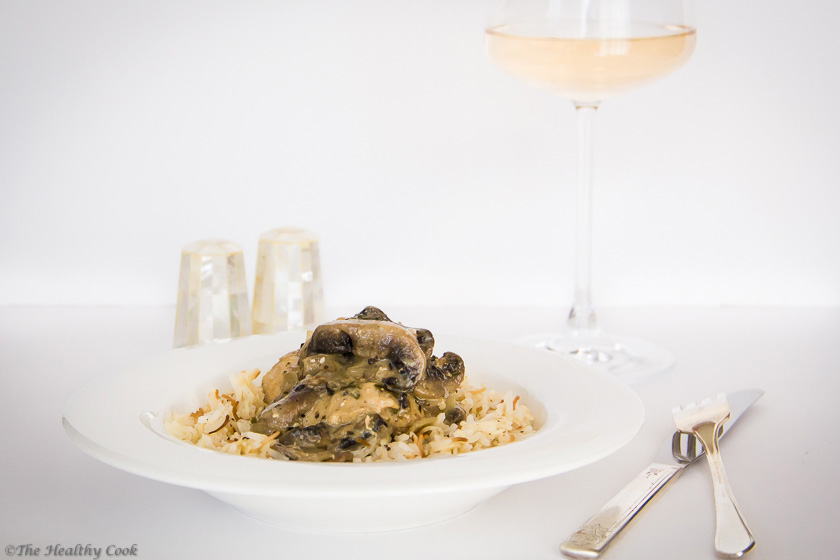 Recipes for chicken with mushrooms in mustard sauce you can find everywhere; but adding tarragon literally lifts the dish. On the other hand, the chicken is cooked in the white wine and a splash of brandy, without added water or broth or other liquid. As you understand the taste is guaranteed.
Chicken fillet is a beneficial food, low in fat, ideal for those watching their diet. It is a valuable source of protein of high biological value.
Mushrooms are an excellent food rich in high quality protein (and therefore can replace meat and are an ideal food for vegetarians), fiber, vitamins, minerals, and have little caloric value because they contain small amounts of fat and carbohydrates. Specifically, mushrooms contain B vitamins, vitamin D (essential for calcium absorption), phosphorus, calcium, selenium, zinc, copper and potassium (and are low in sodium).
Instructions on how to make delicious basmati rice you can find in the Butter Chicken (Murgh Makhani) with basmati rice recipe. You can read all about tarragon in the post Cashews with Turmeric, Tarragon & Chia Seeds.
Preparation time: 40 minutes
Servings: 6
Ingredients:
4 large chicken fillets cut transversely into 2 pieces each
500 g. fresh white mushrooms, sliced
2 medium onions, chopped
1 garlic clove, crushed
3 heaped tablespoons Dijon mustard
1 tablespoon dried tarragon
300 ml dry white wine
1 ½ tablespoon brandy
2 tablespoons olive oil
salt, pepper
Instructions:
Put a non-stick skillet over medium-high heat. Season chicken fillets with salt and cook until golden on both sides. Leave aside.
In a saucepan, heat 2 tablespoons olive oil and sauté the mushrooms until golden. Add garlic and onions and cook until tender, stirring.
Add the mustard and tarragon and stir.
Add the wine and brandy and let boil for 2 minutes.
Add the chicken, season with salt and pepper, cover the pot and simmer for 10 minutes. Uncover and continue cooking for another 15 minutes, stirring occasionally.
Serve hot with rice, mashed potatoes, or boiled green vegetables.
PS. The Healthy Cook is a nominee for the Food Blog Awards 2015, in Best Design & Site Architecture category. If you want to vote for me, log in to your facebook account and click here. Thank you!