I have confessed my love for avocados many times, and I have expressed it through many recipes. I consider it to be one of the most interesting and versatile ingredient that someone can use in his kitchen, especially if he prefers to eat healthy. So, not having a guacamole recipe in my blog, is just not right!
Guacamole recipes, you will find many. In Mexico, however, they make it in a basalt mortar, molcajete. That's why I chose to make it in my granite mortar. Besides, I prefer it chunky, with all the ingredients visible, not mashed. If you do not have a similar mortar, use a fork, I will explain the two different methods in the instructions below.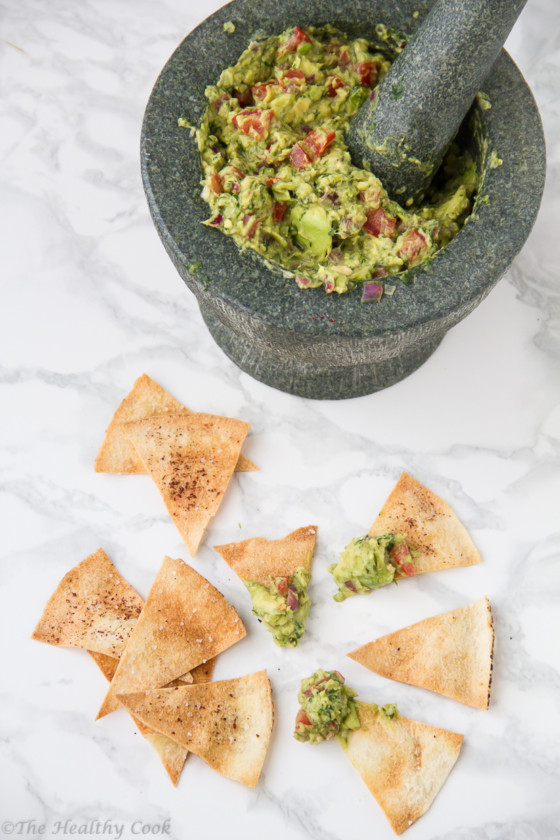 I chose to accompany the guacamole with pita chips which are made very easily and quickly. Like I said to a friend of mine yesterday, if you do not eat guacamole with a pound of tortilla chips, it's joyfully healthy!
The secret to good guacamole has to do with choosing the right ingredients. It's raw not cooked, so fresh, good and ripe ingredients are all it takes. Moreover, do not make it in advance. It doesn't keep well, it turns brown very quickly. Guacamole is usually made with chile peppers such as serrano or jalapeno. I made it with Tabasco for purely practical reasons, because fresh chile peppers are not an ingredient easily found in Greece.
Guacamole
2017-05-15 00:03:34
Serves 4
The recipe of one of the most popular dips worldwide
Nutrition Facts
Amount Per Serving
* Percent Daily Values are based on a 2,000 calorie diet. Your Daily Values may be higher or lower depending on your calorie needs.
Ingredients
• 2 ripe medium avocados
• 1 ripe medium tomato, cut into small cubes
• ¼ cup finely chopped red onion
• 8-10 Tabasco drops (depending how hot you want it)
• 3 tablespoons chopped fresh cilantro
• ½ teaspoon of salt
• 2 tablespoons of fresh lime juice
• 1 large clove of garlic, melted or finely chopped
Mortar method
1. Put the onion, garlic, salt, cilantro and Tabasco in the mortar and grind with the pestle until the ingredients are joined together.
2. Add the avocado and lime juice and grind until broken up but still chunky.
3. Add the chopped tomato and stir with a spoon to incorporate.
4. Taste and adjust the salt or Tabasco, if you wish.
Fork method
1. In a large bowl add avocado and lime juice and mash with the back of a fork until slightly chunky.
2. Add all the remaining ingredients and incorporatewith the fork.
3. Taste and adjust the salt or Tabasco, if you wish.
The Healthy Cook https://thehealthycook.gr/
Pita Chips:
Using a kitchen scissors, divide the pita bread in half, so you'll have two rounds.
Cut each round into 8 wedges.
Lay a baking sheet with a greaseproof paper and brush it oil slightly.
Place the wedges on the paper and slight brush them with oil on both sides.
Sprinkle both sides of each wedge with the salt and, if using, a spice or dried herb (soumac, oregano, thyme, etc.)
Bake in a preheated oven at 180 ° C for about 8 -10 minutes.