My love for all things homemade is known to you already. In my "to do" list, among other things, was the nougat. Although I had only tried the ready-made thing, I was thinking homemade nougat like a delicious, fluffy and airy delish, with a wonderful aroma and carefully chosen ingredients. I struggled with the idea to try it for months. Just as what happened with the cough drops, I searched recipes online and in every pastry book I have in my library, to compare methods and ingredients. I did not find many recipes and those found had huge differences in the preparation. Moreover, few of them gave clear instructions. Where ingredients are concerned, I had decided that I will not fix the classic white nougat with almonds. I wanted something more and when I saw this recipe, I made my mind! Nougat with rose water, pistachios and cranberries, with a beautiful pink color. And so the adventure began…
I made several attempts, throwing away syrups and nuts. Either the ratios for the syrup were not that good, or the nuts were fewer than they should and the nougat came very "poor" … Eventually I end up at a t very satisfying result.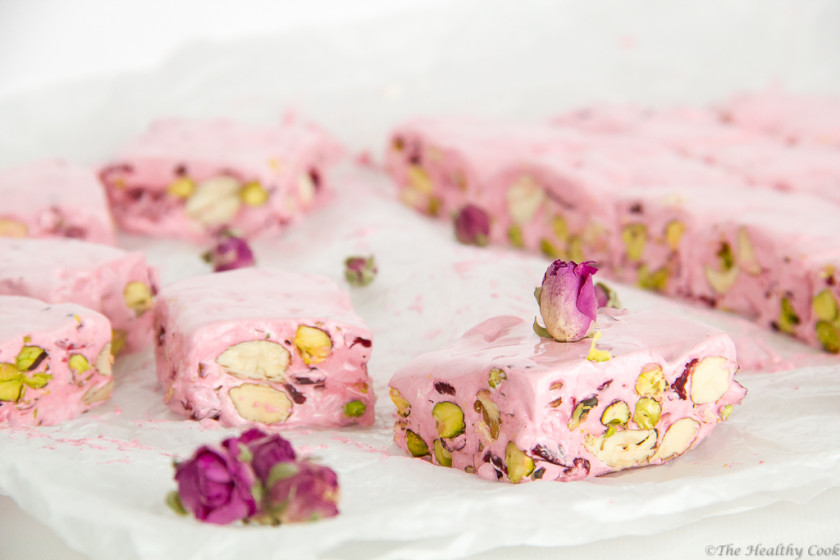 To clarify things out, this recipe gives a delicious, but relatively soft nougat. It's not as hard as the store-bought. My testers (and they were many people this time!) told me they prefer it like this, because the other one is too hard to chew! As for the taste, I had an A+! 🙂
Edible rice paper (or wafer) to lay above and below the nougat was impossible to find in Greece, only to sites abroad. I did not order these because I thought if it is to show the people in Greece how to do it, it should be with materials that are easy to find; so I decided to try it with greaseproof paper. To be sure, I lightly greased the parchment paper with sesame oil. I did the same when I cut the nougat and wrapped it in papers to treat my classmates and my friends. If edible rice paper is easy for you to find, then use it. If you know where we can find it in Greece, share it with me. I'll be very happy. 😉
The process is a bit difficult, because you need to do three things at once; so you must be ready. It is very important to have all ingredients set before you start, because when the time comes you will not have time. Another important thing is to keep the egg whites at room temperature, in order to have the fluffy and airy result. Otherwise, the syrup will be chunky when combined with the cold egg whites.
You prepare two syrups. The first is with sugar, water and some honey, and the second one is neat honey. A candy thermometer is necessary and you will use it in both syrups (read here how to calibrate your thermometer so it operates properly). First, you should heat the sugar syrup and then that of honey. Once you begin to warm the honey syrup, you start to hit the egg whites into meringue. Be careful because honey heats very quickly and it might burns. It might change color and darken; do not worry. But be careful not to reach the temperature above 315o F (157o C). Then it is burned! When syrups get to the desired temperatures you will have to pour them into the egg whites, slowly, like a thread, first the honey syrup and then that of sugar. That's why I used small saucepans, those with the handle, to make my life easier.
During warm weather it is good to store the nougat in the refrigerator. So it will not be so soft that it melts, but will not harden so much to need a dentist afterwards!!
Preparation time: 1 hour
Servings: 25 pieces
Ingredients:
1 heaping cup (5 oz.) almonds
1 ½ cup (7 oz.) pistachios
1 cup (3.5 oz.) dried cranberries
¾ cup (5 oz.) granulated sugar
½ (6 oz.) + 1/4 (3 oz.) cup honey
¼ cup water
¼ teaspoon salt
2 egg whites from large eggs (2.8 oz.), at room temperature
¼ teaspoon vanilla extract
1 teaspoon rose water
pink food coloring
vegetable oil to lightly grease the paper (I used sesame oil)
Instructions:
Spread the almonds and pistachios on a baking pan, lined with greaseproof paper, and roast in preheated oven at 302 ° F, for about 15 minutes. Remove them from the oven and let cool.
Lay a 9.5X9.5in square pan with parchment paper so that the paper excess from the sides of the pan, and greased lightly with vegetable oil.
In a medium pan, put the sugar, water and ¼ cup honey. In another small pan, pour ½ cup honey. In the mixer bowl have the egg whites and salt ready.
Heat the sugar syrup over medium-high heat until the sugar has dissolved completely. If sugar sticks to the sides of the pan wash it down with a damp silicone brush, so as not to create crystals. When the sugar melts clip on the thermometer and without stirring wait for the temperature to reach 245 ° F and turn down the heat to medium low.
Clip the thermometer on the saucepan with the honey and heat over medium-high heat.
At the same time begin to beat the egg whites, at medium-high speed, to make meringue.
When the honey reaches 265o F, add it to the egg whites while the mixer is working, slowly, like a thread. Reduce mixer speed to medium and continue beating, until the egg whites hold firm peaks.
Clip the thermometer back in the saucepan with the sugar syrup, and raise the temperature to medium-high until it reaches 305° F and pour it in the meringue with a slow and steady stream. Continue beating at high speed, for another 3-5 minutes, until the mixture pales and turns glossy and thick.
Remove the bowl from the mixer, pour in the nuts mixture, cranberries and vanilla and stir with a wooden oiled spoon. Add food coloring and mix well. Be sure to be quick because the mixture will begin to tighten and it will be stiff.
Apply evenly the mixture into the prepared baking pan and cover with another piece of greaseproof paper which you have greased lightly with vegetable oil. Leave to stand overnight.
Remove the nougat from pan and cut into small square pieces, with a sharp,

oiled

Wrap it in a non-stick papers (I lightly greased it, to be sure) and store in the refrigerator for at least 2 weeks. Have in mind that the longer you let the nougat set in the refrigerator the better.
And your fluffy, airy, homemade nougat is ready for you to try it!
PS. I really enjoyed this process a lot. Especially the point when pouring the hot honey into the meringue, the waters created and the texture of the meringue at that time was really something! Pastry lovers will understand me perfectly! The only certainty is that I will make this nougat again and again 🙂
Nutritional Facts per Serving

Calories
Carbohydrates
Sugars
Total Fat
Saturated Fat
Proteins
Dietary Fibers
Cholesterol
146.5
21.3
17.2
6.7
0.2
1.5
0.9

0.0