And it's time for the main course of the festive menu, which is nothing more than a delicious salmon with potatoes, roasted garlic and tarragon sauce; a truly delicious dish that will thrill your guests.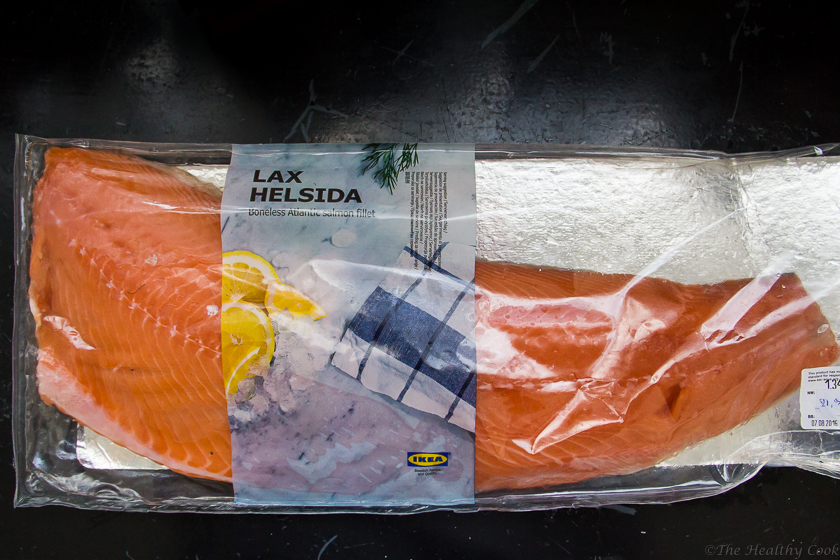 I love salmon very much! It is not like other fish; it has a special taste of its own and is very nutritious. It is a valuable food, with great nutritional value and beneficial properties for a healthy skin, a strong immune system, a strong heart and clarity of mind. It is a natural source of nutrients, especially balanced and adsorbed proteins, and contains significant quantities, vitamins, minerals, trace elements and of course valuable and essential omega-3 fatty acids. Moreover, it gives you so many options to cook it, that a good recipe is never enough! This time I chose salmon from IKEA food store and I'm honestly excited. It is very tasty and less greasy than others I have tried. It was perfect for this recipe. If you want more information about salmon read here.
As for my beloved tarragon, it is an aromatic herb, with many applications in cooking. The smell is reminiscent of licorice. It is a source of vitamins A and C, iodine, and an excellent source of potassium. In the post "Cashews with Turmeric, Tarragon & Chia Seeds» you can find more information about it.
The dish that I propose to you today is the most demanding in time than the rest of the menu. Believe me, however, it is really worth it! The roasted garlic gives the salmon a sweeter and more earthly note, and tarragon gives an amazing flavor.
As for the fish stock, I will tell you this: it is a recipe to keep! The proportions I give yields almost twice as much the quantity you'll need, so freeze the rest of it for a later use.
As I have already said, under the Food Blog Awards 2015, I cook and serve with IKEA's utensils and tableware, which you all see in the photos. For today's post, the runners and the dishes highlighted this recipe with the best possible way! If you want to take one more look to the other dishes of this festive menu that are already posted, click on the following links:
Potato Salad & Herring Canapés
Let's now take a look at the recipe:
Total time: 1 hour and 30 minutes
Servings: 6
Ingredients:
fish broth (500ml approx):
head and bones of a fish
15 g. (0.5 oz.) butter
1 leek, trimmed and coarsely chopped
1 fennel bulb, peeled and coarse
6-7 parsley stalks
1 bay leaf
180 ml dry white wine
10 whole white peppercorns
1 liter of water
salmon:
6 salmon fillets, about 180-200gr. (6-7.5 oz.) each
600 g. (1.5 lb.) baby potatoes, peeled
4 heads of garlic
2 tablespoons dried tarragon
5 tablespoons olive oil
250 ml fish broth
140 ml cream 20% fat
1-2 tablespoons lemon juice
(1 oz.) butter, chilled and cut into pieces
salt, pepper
Instructions:
Remove the bones and, if desired, the skin from the salmon fillets, season with salt and put them aside.
Preheat oven to 180 ° C.
Separate multiple cloves of garlic without peeling them. Put them a baking dish and sprinkle them with 1 tablespoon dried tarragon, olive oil and 2 tablespoons of water. Cover the pan with foil and bake for about 50 minutes to 1 hour, until soft and golden brown. Once baked and cooled, split them in half and clean half and mash them. The other half set aside.
In a medium saucepan, over medium to low heat, melt the butter and sauté the leek and fennel for about 5 minutes. Add the remaining ingredients, except the peppercorns, and 1 liter of water. Bring to boil over medium-low heat for 15-20 minutes, until the volume is reduced by half. Add peppercorns for the last 10 minutes. Remove from heat and let the broth cool before straining.
Cut the potatoes into thin slices. Boil in salted water for about 2-3 minutes, until tender but not breaking up. Drain carefully and put them aside.
Brush the salmon fillets with the garlicky oil and sprinkle with ½ tbsp of dry tarragon. Cover the fillets with sliced potatoes, so that one slice overlaps the other, oil again with the remaining garlicky oil and season with salt and pepper. Bake salmon at 180o C / 350o F, for about 20 minutes and then transfer the pan under the grill and cook another 3-4 minutes until potatoes are browned.
Put 250ml of fish broth in a medium saucepan and bring to boil. Add the garlic puree and cream and let it boil until it thickens. Remove from heat, add the remaining tarragon, lemon juice, salt and pepper to taste. Finally add the butter and mix well.
Serve the salmon warm, accompanied with the sauce and 2-3 roasted garlic cloves.
PS. Today's recipe posted for my candidacy in the "Food Blog Awards 2015", particularly in the "Best Design & Site Architecture" category. If you would like to vote for me, login to your facebook account and click here. You should click the "like" button below the text. Thank you! 🙂