Make yourself a fragrant and hot coffee and join me enjoying these chocolate muffins. You don't need any other excuse to make them; they are simple and easy enough. Besides, they won't you "load" you with many guilts! 😉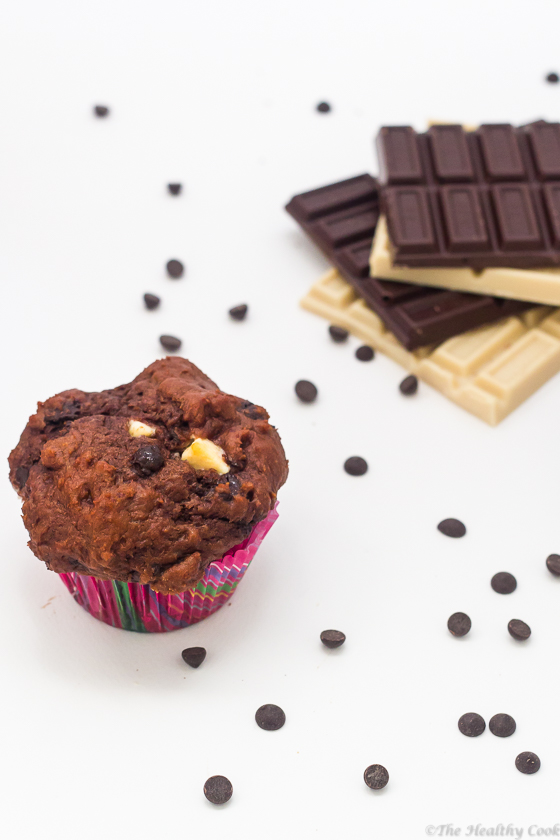 These triple chocolate muffins are made with Greek strained yoghurt, some butter, 2 eggs, cocoa, white and dark chocolate. No food processor is required and yes, they are very tasty.
I won't hold you up anymore. I know you want to run to your kitchen and make them immediately!
Triple Chocolate Muffins
2016-01-09 18:59:30
Delicious and healthier chocolate muffins
Nutrition Facts
Amount Per Serving
* Percent Daily Values are based on a 2,000 calorie diet. Your Daily Values may be higher or lower depending on your calorie needs.
Ingredients
1 ¾ cup all-purpose flour
1/3 cup cocoa powder
2 teaspoons baking powder
½ teaspoon baking soda
½ cup dark chocolate chips
1/3 cup white chocolate, cut into small-sized pieces
2 large eggs, beaten
1 ¼ cups Greek strained yoghurt 2% fat
1/3 cup brown sugar
80 g. butter, melted
Instructions
Preheat oven to 190oC/375oF. Line a muffin pan with muffin paper liners.
Sift the flour, cocoa, baking powder and baking soda in a large bowl. Add the white and dark chocolate and stir.
Place the beaten eggs, yogurt, sugar and melted butter in another bowl and mix well.
Add the liquid ingredients to the bowl with the dry ingredients and stir gently, until just combined.
Using 2 spoons equally divide the batter into the paper liners and bake for about 25 minutes.
Remove from the oven, let them cool for 5 minutes and then remove muffins from the pan and place them on a rack to cool.
Notes
And if you're wondering ... yes, you can eat them warm, as well! 😉
Adapted from the book "Muffins" by Gemma Reece, Parragon Publishing
Adapted from the book "Muffins" by Gemma Reece, Parragon Publishing
The Healthy Cook https://thehealthycook.gr/