It's breakfast week on the blog, and after the vegan smoothie bowl with roasted figs, a recipe you really loved, it's time for pancakes, my new obsession ….! Until recently, pancakes weren't my thing. Lately this has changed and I am experimenting with different types of pancakes. Therefore, after the protein pancakes with turmeric, here come the vegan banana pancakes and others will follow.
I have to say that if it wasn't the perversion of the food blogger, experiments would stop here. These are the perfect pancakes for me. Very tasty, fragrant, fluffy and much healthier than usual. This recipe is vegan and, but I'm giving you the simple version, as well.
Almond milk has few calories, is rich in vitamin E, and covers 30% of the daily amount of calcium that our body needs. If you want to learn more about almond milk read here.
Banana is an excellent source of many vitamins and other nutrients, while the sweet taste and the saturation caused due to fiber make it a quality snack. More particularly, banana is a good source of Vitamin C, potassium and vitamin B6. Vitamin C contained in bananas, enhances antioxidant defenses of the human body and protects against diseases. Furthermore, vitamin C is particularly valuable for the synthesis of connective tissue, the absorption of iron and the blood cell composition. Their content of potassium is particularly high in relation to other fruit and food. Potassium is an electrolyte that plays an important role in protein synthesis and the maintenance and development of muscle mass, and regulates nerve impulses for muscle contraction. Vitamin B6 is involved in the synthesis of the immune system antibodies, in the synthesis of red blood cells, in protein metabolism and proper functioning of the central nervous system. We should add that banana is sodium-free, and has traces of fat and cholesterol. Read an extensive and excellent article on the health benefits of bananas here.
Update: You can also use whole wheat spelt flour to make this pancakes.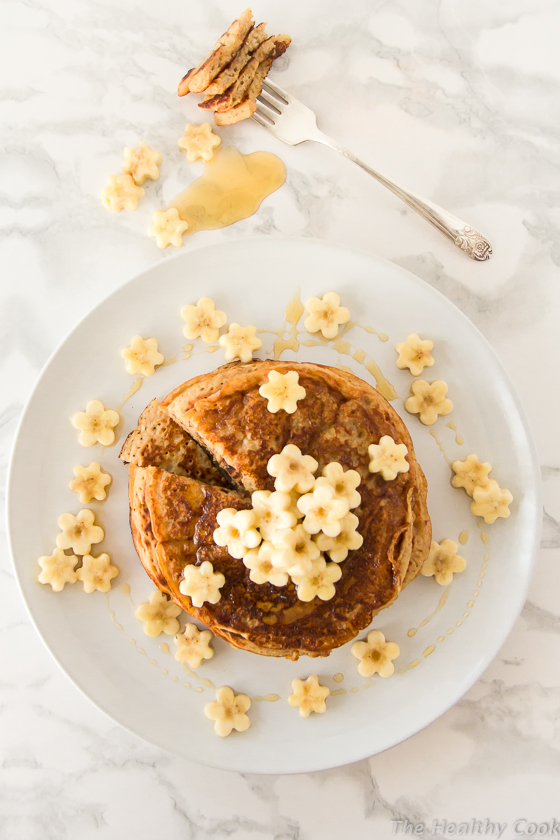 Vegan Banana Pancakes
Vegan Banana Pancakes
2016-08-21 21:52:58
The perfect way to start your day, or your brunch!
Nutrition Facts
Amount Per Serving
* Percent Daily Values are based on a 2,000 calorie diet. Your Daily Values may be higher or lower depending on your calorie needs.
Ingredients
• 1 cup all- purpose flour , sifted
• 1 tablespoon baking powder
• 1 pinch of salt
• 1 cup almond milk *
• 1 tablespoon extra virgin coconut oil, melted **
• 1 banana, mashed
• 3 tablespoons coconut sugar ***
• a few drops of vanilla extract
to garnish
• 1-2 extra bananas, sliced
• maple syrup****
Instructions
In a bowl mix flour, baking powder and salt.
In another bowl (or the bowl of a small food processor for convenience) mix well milk, coconut oil, banana, sugar and vanilla until blended.
Add flour mixture into the liquid mixture stirring until no flour remains.
Heat a small skillet over medium-low heat and brush with a little bit of coconut oil.
Figuring about ¼ cup of mixture for each pancake, cook them one by one for 2-3 minutes each side, until golden. Do not forget to greese the pan with coconut oil before each pancake.
Serve the pancakes warm or at room temperature, with banana slices and honey or maple syrup.
Notes
* Or other milk of your choice
** Or butter
*** Or brown sugar
**** Or honey
The Healthy Cook https://thehealthycook.gr/