Here I am, at last! Back to blogging after a few weeks abstaining from anything that had to do with a computer and internet J It was a long-awaited time off, that I needed as much as anything else. I got some rest (quite …) and I am (almost …) ready to face September's challenges! 😉 The first post is about granola bars. I recently realized that it's being a long time since I posted a new such recipe. And look at these bars! Very different from the ones I'm used to. They are fluffier and soft, not so crisp. Vegan beet and chocolate granola bars, so colorful and really delicious!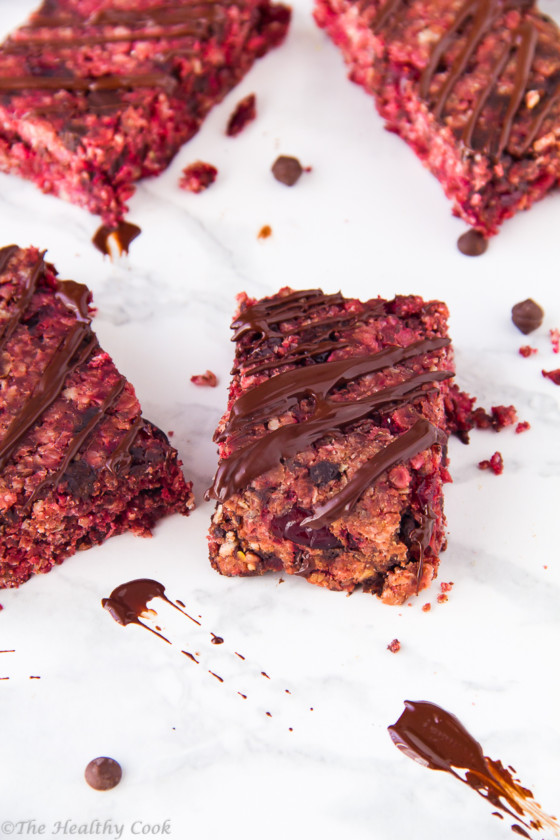 The combination of ingredients for these granola bars may surprise you. But you will be impressed by how beautiful and tasty they eventually are.
The addition of the beet, apart from its striking color, adds its beneficial properties. Beets are rich in carbohydrates, nitrates, magnesium, iron, potassium, sodium, vitamin C, and phytonutrients such as betacyanine, which can reduce free radical damage to the body but also inhibit the production of cancer cells in the stomach, intestine, lungs, and nervous system, according to some research. It, also, improves the body's natural defense by helping to regenerate immune cells.
The beetroot that I use in this recipe is baked in the oven, wrapped in foil, for about 1 hour until it is softened. But you can also use boiled, or steamed beets.
 Tip: While baking a food in the oven, put a few beetroots wrapped in foil at one end. This way, you save energy and have beets ready for your salad, these bars and many other recipes that we will look into in the future. You may store them in the refrigerator for several days.
Chocolate decoration in these bars is optional. There is no need to put it if you want to limit the calories. But it certainly suits them a lot!
Vegan Beet & Chocolate Granola Bars
Vegan Beet & Chocolate Granola Bars
2017-08-21 22:47:33
Fluffy and soft beet & chocolate granola bars with an exquisite color #vegan
Nutrition Facts
Amount Per Serving
* Percent Daily Values are based on a 2,000 calorie diet. Your Daily Values may be higher or lower depending on your calorie needs.
Ingredients
• 1 large beetroot (baked, boiled, or steamed), peeled
• ½ cup soft dates (you can soak them in water for about 30')
• ½ cup unsweetened coconut milk
• 1 teaspoon vanilla extract
• ½ cup (260 grams) tahini
• 2 tablespoons (50 grams) maple syrup *
• 2 cups (170 g) oatmeal flakes
• 2 cups (180 grams) barley flakes **
• ½ cup (50 grams) crushed flaxseed
• ½ cup (80 grams) cranberries
• 1 pinch of salt
• ½ cup dark chocolate drops ***
Instructions
In a small saucepan, in very low heat, heat the tahini and maple syrup (or honey) until thinner. (They will mix better with the rest of the ingredients.)
Place the beet, coconut milk, dates and vanilla in the food processor bin and blend.
In a large bowl add oats, barley, flaxseed, cranberries, and salt and mix.
Add the beet mixture into the bowl and mix.
Add the tahini mixture and mix well.
Finally, add the chocolate drops and mix.
Preheat the oven to 170 ° C.
Rinse a piece of parchment paper with a little bit of water, strain it well wrinkling it and line it in a 24x24cm baking dish. (This way the paper softens and fits better on the baking dish.) Apply the mixture to the baking dish and lay it well. Bake the bars for about 18-20 minutes.
Allow to cool completely and then cut into 20 pieces.
If you want to garnish the granola bars with chocolate, melt 60-70 gr. of dark chocolate in bain-marie and using a fork or a teaspoon draw lines back and forth.
Notes
* Or honey for non-vegans
** You can also use one type of cereal, i.e. 4 cups of oat, or, 4 cups of barley flakes.
*** You can replace them with cacao nibs in the same quantity.
You may garnish the bars by drizzling them with a bit of melted dark chocolate, as shown in the pictures (optional).
Adapted from Golubka Kitchen
The Healthy Cook https://thehealthycook.gr/