A muffin comes along perfectly with your morning coffee, or tea. It makes an ideal brunch, or afternoon snack and can be taken away easily. That's why most of us bake some very often, either sweet or savory. Moreover, muffins ia an ideal snack for children, since inside them, you can "hide" some of the foods your child doesn't eat. These oatmeal carrot muffins with yoghurt are delicious without being loaded with extra calories of butter and other ingredients. Today I present to you two versions of them: either plain, which is the lightest version, or with a butter streusel, which gives them an extra smell and taste and a crunchy surface, for those who do not count calories.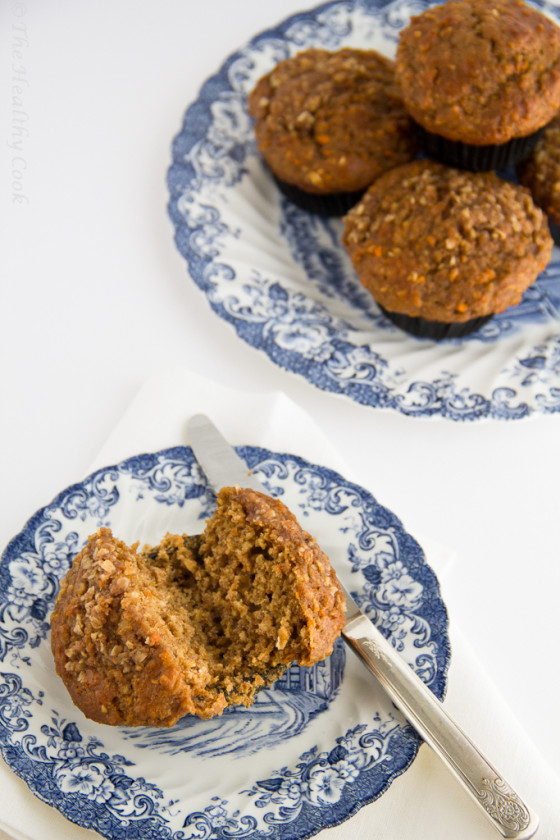 I discovered the recipe in Vikalinka and amend it a bit. The whole meal flour I used and rolled oats add extra fiber in our cupcakes. Grated carrot adds moisture to the muffins making them really yummy and yogurt makes them fluffy.
Preparation and baking time: 40 minutes
Servings: 12
Ingredients:
• 2 cups whole wheat flour
• 1 cup rolled oats
• 1 teaspoon baking powder
• 1 teaspoon baking soda
• ½ teaspoon salt
• 1 cup dark brown sugar
• 1 teaspoon grated cinnamon
• ½ teaspoon grated nutmeg
• 2 eggs
• ¼ cup olive oil
• 1 ½ cup strained yogurt 2% fat
• 1 teaspoon vanilla extract
• 1 cup grated carrot
for the butter streusel
• 3 tablespoons of butter, at room temperature
• 2 tablespoons whole wheat flour
• 3 tablespoons rolled oats
• 3 tablespoons brown sugar
• ¼ teaspoon ground cinnamon
Instructions:
Preheat oven to 180 ° C.
In a bowl mix the flour, oats, baking powder, baking soda, salt, cinnamon and nutmeg.
In the mixer bowl beat eggs, sugar, oil and then add the yogurt and vanilla and mix again.
Add the grated carrots and then the dry ingredients and stir.
In a small bowl mix all the ingredients for the streusel. It is better to wear a disposable glove and combine them with your fingers.
Spread the mixture on the muffins in special molds and add a small amount of streusel on the top, if desired.
Bake for about 25 minutes.
Enjoy these fluffy muffins with carrot and oats together with your children; they will definitely love them!
Nutritional Facts per Serving

Calories
Carbohydrates
Sugars
Total Fat
Saturated Fat
Proteins
Dietary Fibers
plain
227.6
37.5
17.8
6.1
0.9
7.5
3.5
streusel
270.6
41.7
20.8
9.1
2.7
7.7
3.7